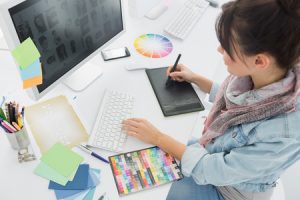 Even in the digital age, print marketing is as important as ever for promoting your brand and getting your message across. Today we'll address a few essential elements of great print marketing design:
Clean, Concise Copy
Be simple and direct, and avoid crowding the page with ornate and flowery language. Whatever you do, proofread to avoid embarrassing typos!
Negative Space
Effective print marketing design doesn't shy away from leaving some blank space on the page. When pages are packed with text and graphics, it can overwhelm consumers and make it harder for them to engage with the content. A little negative space will make your marketing materials more readable and visually appealing.
A Limited Color Palette
Yes, colors can be eye-catching, but use them sparingly. Not only will a limited color palette make your materials less expensive to print, but it can also help focus the customer's eye on what really matters—your message and your contact information.
High-Res Artwork
Don't skimp on image quality. High-resolution vector or raster artwork will come across best on the printed page. Images made for the web often lose their fidelity when printed.
High-Quality Paper
Using high-quality paper stock will give your marketing materials an appealing, professional look and feel. You might also consider incorporating colored paper into your design.
At Graphic Innovations, we've been helping businesses build brand awareness and expand their reach with effective print marketing design since 1986. To get started on your next marketing campaign, feel free to give us a call or contact us online today!